Eco Blinds & Shades - All You Need To Know
Today's homeowners are more environmentally conscious than ever before. Many businesses and manufacturers are also doing their part to reduce landfill and care for Mother Earth; a variety of basic home items are now made with green materials, such as blinds, appliances and flooring. You can support your Earth-loving lifestyle by choosing eco-friendly window shades for each room in your home.
Instead of browsing around for the top options, we have a complete list of the best styles in the industry. Each of these choices in window blinds are both beautiful and support the environment. Once you find your favourite type, you'll be ready to adorn your space, all while feeling good about how your decision impacts your planet and community.
Top 4 Eco-Friendly Blinds
In terms of eco-friendly blinds, there are four main styles you should know: cellular shades, bamboo blinds, roller shades, and roman shades. Let's dive a little deeper.
1. Cellular Shades
If you like to match clean, classic décor with energy efficiency, you're not alone. Many homeowners now choose cellular blinds to adorn their eco-friendly space. Cellular blinds are a great choice for environmentally conscious homes because they're designed to both insulate and protect each room.
Cellular blinds are known for their sheer effect and light-blocking potential. These window coverings create a glowing ambient look but reduce the transfer of cold air in winter. They'll also keep the heat out of your home in the summer. Proper insulation directly translates to more energy savings. While you reduce your electric bill, each room in your home will stay more comfortable.
2. Bamboo Blinds
Also known as woven wood shades, bamboo blinds are made of a combination of natural bamboo and jute. Each real wood shade is created with materials farmed directly from the Earth. This means they are free of most industrial farming and manufacturing practices. While you work to reduce the use of synthetic materials, you'll also enjoy both style and texture.
Since they add warmth and personality to bedrooms and family rooms, bamboo blinds are an excellent option for those who like to combine cosiness with a rich, earthy feel. Keep natural shades away from humidity and moisture, and they'll last a long time. If you ever want to make a switch, you'll rest assured knowing you can recycle the materials.
3. Roller Shades
Roller shades are popular among families for their cordless options and ease of use. They are also among the most eco-friendly selections in window coverings. Choose from energy-efficient light filtering and blackout features. You also have the option of choosing a solar shade style.
Solar shades are roller shades made of sleek, weather-resistant fabric. Each covering comes with an openness factor. This number explains the shade's UV light blocking power. You can find models that block up to 99 percent of the sun's harmful rays.
ORDER ROLLER SHADES THAT FIT YOUR NEEDS
4. Roman Shades
Roman shades are stylish and fit different styles of home décor. It doesn't matter whether your interior is modern or traditional—you'll find a bold pattern or solid colour to match your look and personality. To make your Roman shades environmentally friendly, add a light filtering or blackout liner.
As with roller shades, you can add various liners to your window coverings to block out harsh temperatures and damaging UV rays. The thicker the material, the better it will insulate your space. Choose a top-down, bottom-up style to enjoy the perfect amount of light without sacrificing your energy efficiency. Quickly cover the entire window when it gets too cold, sunny or hot.
GET YOUR CUSTOM ROMAN SHADES TODAY!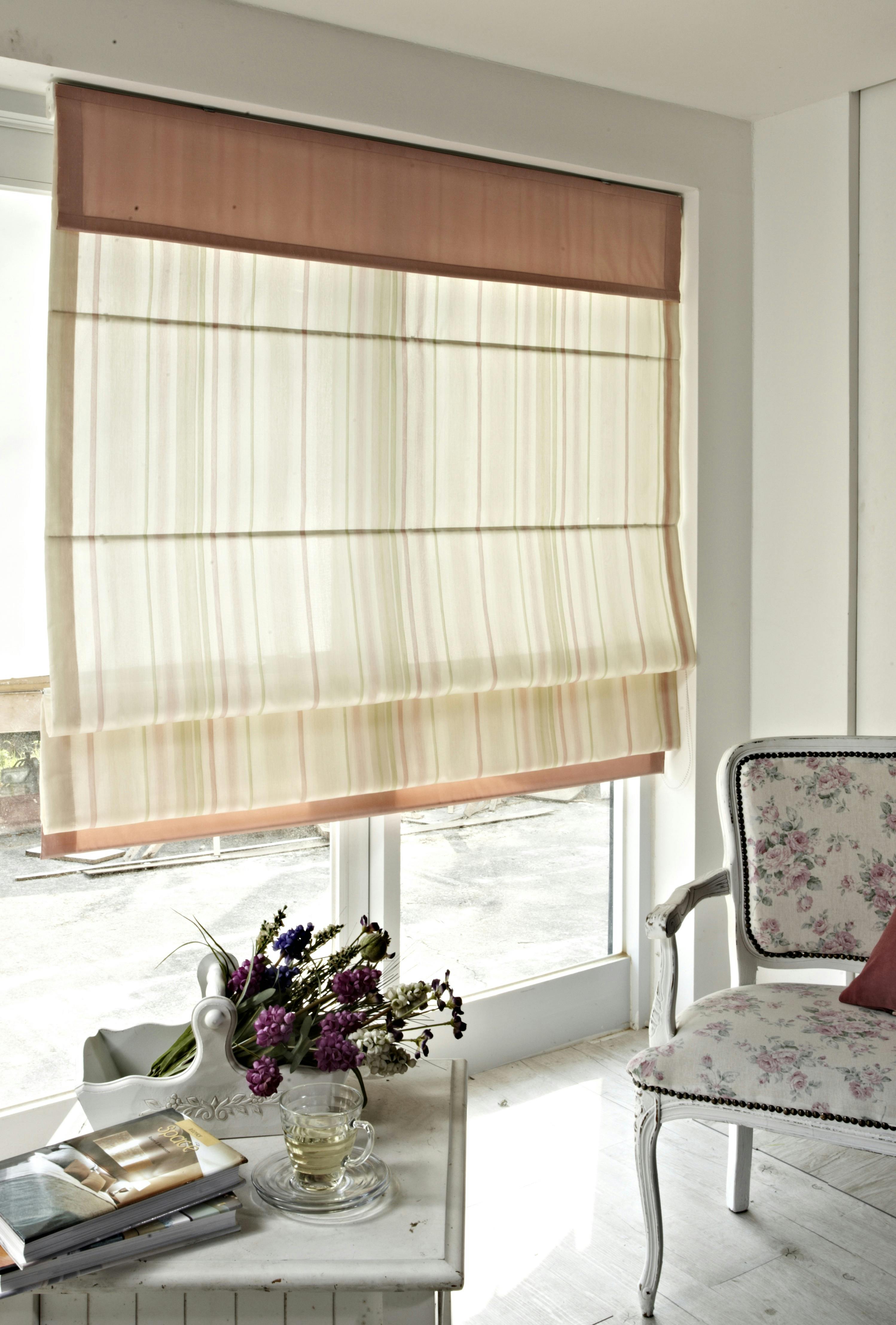 How can blinds and shutters protect the environment?
Besides being a sleek and stylish choice, the four shades discussed above are actually quite friendly to the environment. How, you might be wondering? Let's take a look.
A high level of insulation
Eco-friendly blinds – in particular, cellular shades – are excellent at trapping heat in your home during winter and keeping it out during summer. This is because of their unique honeycomb-like structure, which is made up of cells that act as tiny insulators.
As a result, you'll find that eco blinds can save you a lot of money on your energy bills, as you won't need to use your heating and cooling system as much. And that's good news for the environment, as these systems are often responsible for a large chunk of our carbon emissions.
Bring natural light into your home
Another great thing about eco blinds is that they can help you to reduce your reliance on artificial lighting. This is because they allow you to control the amount of natural light that comes into your home, so you can make the most of daylight hours.
Rather than keeping your lights on all day and burning through energy, you can open your eco blinds to let in some natural light. This will not only save you money, but it will also help to reduce your carbon footprint.
Made using sustainable materials
Many eco blinds are made using sustainable materials, such as bamboo or recycled plastic; they don't put strain on the environment during their production, and they can also be recycled at the end of their life. Faux wood blinds, when made with recycled plastic, help to save on wood production.
Bamboo is a great choice for eco blinds as it's a very fast-growing plant, so it doesn't require much in the way of resources to produce. It's also very strong and durable, so your eco blinds should last for many years.
Recycled plastic is another excellent choice for eco blinds, as it doesn't require any trees to be cut down during its production. Plus, at the end of its life, it can be recycled and made into new eco blinds – or anything else!
Low maintenance
Eco blinds don't typically require any special cleaning or treatments. In most cases, you can simply wipe the slats down with a damp cloth to keep them looking their best.
Low maintenance means less need for harsh cleaning chemicals, which are often bad for the environment. It also means less water consumption – another bonus when it comes to being eco-friendly.
Free measuring and fitting
When you order eco blinds from us, we'll come to your home to measure your windows for free. Can eco-friendly choices get any better than that?
We'll also fit your eco blinds for free, so you can be sure they'll look great and work properly. And because we want you to be 100% happy with your purchase, we offer a 14-day money-back guarantee on all our products.
Main Purpose Of Eco-Blinds
Ultimately, eco-blinds exist to help reduce your carbon footprint and save you money on energy bills. By trapping heat in your home during winter and keeping it out during summer, they can help to minimise your reliance on heating and cooling systems. You'll also find that eco-blinds can help you to make the most of natural daylight hours, so you can reduce your reliance on artificial lighting.
If you're looking for an eco-friendly way to style your windows, then eco-blinds could be the perfect choice for you.
Keep Your Home and Planet Healthy
Make your blinds and shades even more energy efficient by finding a custom fit. We manufacture our window coverings directly so you can get the best look and the most energy efficiency. Read our guide on how to measure blinds and then provide us with your numbers when you order your favourite style. We'll make your shades to your exact specifications and then ship them directly to your door.
The best thing about being environmentally conscious is that it benefits so many people. By choosing energy-efficient window coverings, you'll protect your family, neighbourhood and planet. While you stay more comfortable and save money on your power bill, you'll leave more energy for your community. You'll also be wasting less than most other households.
Go unique and natural with bamboo woven wood shades or complement your classic look with cellular blinds. No matter which of the above styles you pick, you'll help protect the environment and make a smart investment. You're also sure to enjoy each room in your home, no matter the weather or time of year.
CHECK OUT OUR COMPLETE COLLECTION OF WINDOW BLINDS AND SHADES
FAQs
What is the most energy efficient blind?
It is difficult to say with certainty which is the most energy efficient blind as it will depend on a number of variables such as the type and size of window, the climate, etc. However, some types of blinds are generally more energy efficient than others. For example, roller shades tend to be more effective at blocking out heat and light than vertical blinds, and cellular shades are also good at insulating against heat and cold.
Are bamboo shades eco-friendly?
Yes, bamboo shades are a great eco-friendly option for window treatments. Bamboo is a sustainable material that grows quickly and does not require the use of pesticides or other chemicals. Bamboo shades are also usually made without any VOCs (volatile organic compounds), which can be harmful to indoor air quality.
Is PVC blind good?
PVC is a type of plastic that can be found in many household items, including blinds. PVC is not biodegradable and can release harmful chemicals into the environment, so it is not considered to be eco-friendly. There are some PVC-free blinds on the market made with alternative materials such as bamboo or recycled plastic.
How much does an electric blind cost?
Electric blinds are generally more expensive than traditional manual blinds. The cost will vary depending on the size and style of blind, but expect to pay around $100 minimum for an electric blind.